Scandinavian hair by Marie Larsson
SWEDISH HAIR STYLIST


MOBILE HAIR DRESSING IN LONDON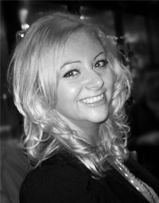 ABOUT MARIE
Marie is a highly experienced, professional, mobile hairstylist. She grew up in Gothenburg, Sweden, before moving to London at 20. She spent 5 years working in Barcelona in her early 20s, before settling back in the capital.
Having worked in numerous Hair Salons across London for a number of years, gaining experience as a Colour Technician and Senior Stylist, she then decided to go freelance - providing affordable prices, all in the comfort of your own home. Her talent and passion is clear - her clients' needs are her number one priority and as a result a high percentage of her business is from repeat clients and recommendations.
When not hair dressing she is busy seeing friends and exploring London, keeping up to date with the latest trends and styling techniques.
Marie covers the whole London area, specialising in Cutting, Colouring, Conditioning Treatments, Blow Dry and Styling for ladies, gentlemen and children. The prices listed here cover the standard services on offer - please get in touch for any other requests.
PRICES Recommend a friend to get 10% off your next appointment*
CUTTING AND STYLING
Cut and finish - from £30
Half-head and cut - from £65
Full-head and cut - from £85
Blowdry - from £25
Brazilian (Keratin) Blowdry - from £75
COLOUR
Half-head highlights - from £45
Full-head highlights - from £65
Tint or Semi-permanent - from £40
Tint or Semi-permanent and cut - from £60
Treatments available on request
*You will receive 10% off your next appointment following completetion of your friend's booking i.e. complete payment.
CONTACT MARIE
Give me a call, send me an email or use the form to get in touch
+44 7871 300 831
scandinavianhair@hotmail.co.uk
Marie is awesome, she always knows exactly what I want even if I can't articulate it. You ask for a trim, she gives you a trim. You ask for something different, she works with you to get the best outcome. She's lovely to have around - her bubbly personality is like a breath of fresh air. And she always tidies up after herself! I couldn't recommend her highly enough!
For more testimonials check out Scandinavian Hair on Facebook.